How To Prepare for a trek, The Physical Endurance is the 2nd Chapter of the article. Please read chapter 1 of the article titled To Prepare for a trek, The Mental Endurance.
To prepare for a trek, we need to strengthen our 2 prime M's – Mind and Muscle, the body. Only then, the spending of the 3rd M – Money; a little or more, can bring to us an intense lifelong experience like trekking.
"It is not the mountain we conquer but ourselves." – Edmund Hillary
Muscle, The Physical Endurance:  
In chapter one we have tried to explain how Mental Endurance is co-related and has equal importance to prepare for a trek. In the case of physical endurance, actually, it needs no introduction. The 1st thing comes to mind when a fresher thought about trek is, how hard it will be? A trek can be of various grades – easy to difficult and demands endurance as per the gradation. One may suggest a different fitness regime based on the grade but here we will be more focused on the right approach before we decide the right routine.
Hiking Muscles: 
Every sport has its own techniques to play. And this style required strengthening certain body muscles or practicing a few skills. An example, as all your lower body muscles hold your core body support, it needs better treatment. All the buttocks supporting muscles, including those in the hips, thighs, and calves, plus your hamstrings and abdominal muscles. You'll also need to work your shoulder and chest muscles. While performing stretching and strengthening exercises keep a focus on your hiking muscles.
Before you start fitness routine:  
Knock the doctor: Check with your general physician for your eligibility for a trek. Also, You can use the RckyFeet CERTIFICATE OF MEDICAL FITNESS template to fill up by the physician and share with us to know in detail of grade-wise eligibility.
Check your BMI:  Check your Body Mass Index using a BMI Calculator and determine your BMI classification. If you fall in the under or overweight range, it's better to consult with a Fitness Consultant for required alteration in your regime. Your age can be another point to consult.
Past Injury & Troubleshooting:  Don't forget about your previous injuries and learn simply troubleshoots for them to strengthen more; if required don't hesitate to consult again.
How early should I start a fitness routine? Start as early as possible. 3-2 months will be a nice start. Fitness can only be gained over a continuous period of time.
Let's breathe & sweat:
Now Cardiopulmonary aspect is one good important point associated with any activity or sports. Your lungs and heart need to be fit enough to supply your body with adequate oxygen.
Cardio or Breathing exercise: Aerobic activities, such as walking, jogging, running, step aerobics, swimming, or cycling, can be the foundation of the training program. All these aerobic activities help us to practice a breathing rhythm with exercise which is important for a trek too.  By this, you can gain control over your heartbeats. As well it helps to build your overall body muscles.
Interval training: High-intensity interval training (HIIT) involves short bursts of intense exercise with a recovery period. Pick up any of the aerobic exercises like running. Now run fast for 40 sec to create the bursts, on the contrary walk for 20 sec to recover. In a 2:1 ratio of time periods repeat it for a 4-5 cycle.  Remember interval training should always be followed by a warm-up exercise. Do not jump into it. This helps us to build the Cardiopulmonary system stronger, moreover away the trekking demands it with continuous change of terrain.
A little weight: A little weight on the shoulder, is a great practice for the foundation of a self-sufficient outdoor person. Cardio exercises help us to build our muscles too. Adding a little weight like 5 kg with cardio makes it more effective for muscles.  Use simple stuff to load your Backpack, for example, 1 LTR filled a water bottle is equivalent to 1.05 -1.1 kg of weight.
Train at altitude, for high altitude trek:  Nothing can prepare you better in cardio than altitude itself for a high altitude trek. This well-known process of acclimatization is not an add-on to your fitness, rather a compulsory major for high altitude trek. Keep a min of 48-72 hrs in your hand at 2000 – 3000 m to practice basic breathing exercises for example when you desire to achieve 5500-6000 m.
Stretch:
A 10-minute stretch circuit focusing on hiking muscles can bring a lot of benefits to you. Also, there are a few varieties of stretches and their usages too.
Dynamic: This type of exercise can be performed before you start a trek as warm up by creating controlled mimic movements for the sports. This really helps to give your muscles a start from the rest position, perform better and avoid injury due to sudden kickoff. Go for continuous 4 mins; 30 sec each followed by 10-sec rest, top right of the diagram to the bottom.
Static: These type of exercises has a long-term impact on length, balance, and flexibility of muscles.  Use these after a day hike, at the campsite for its cooling down effect to avoid cramps on exhausted muscles and as stress relief. Go for continuous 4 mins; 30 sec a move, top left of the diagram to the bottom. learn more & detail: Prehab exercises
Strengthening:  
The strengthening part should be focused on trek-specific muscles. Use your own bodyweight to train yourself 1st instead of external weight. The following chart can be a nice start. Go for 30 sec a move followed by 10-sec rest for 14 mins a set, top left of the diagram to the bottom.
The game of balance:
Trekking in different and difficult terrains is a game of balance.  Just a 20 min workout with Yoga can improve your body balance. Also, balance steps up work well for trekking.
40 sec each move followed by 10-sec rest, 1 set = 5 min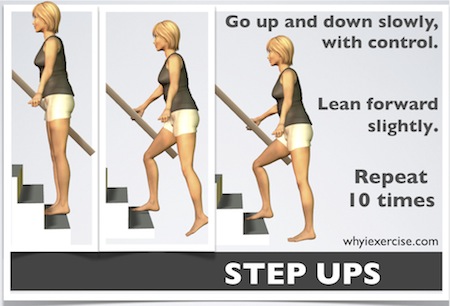 30 sec for 10 moves followed by 10-sec rest. Repeat for 3 sets of 2 min
Nothing better than a Trek: 
Nothing better than a trek can make you trek-fit. Go for a hike whenever and wherever you get a chance. If you don't have an option nearby try using stair climbing with a little weight as the replacement.
Rest is a part of your exercise:
Typical week cycles between hiking days and exercise days should be accompanied by one full day of rest per week. After a maximum of 12 weeks of training, take a week off. The rest periods allow your body to fully remove all the waste products built up by training and be fully rested for the next training cycle. Rest also provides a psychological break from the rigors of training.- Mentioned by
James Fisher
(
coachjamesfisher.com
) is the National Academy of Sports Medicine (NASM) Certified Personal Trainer, Performance Exercise Specialist, and Corrective Exercise Specialist lives in the USA.
Finally a week chart:
The following can be a nice start to your fitness routine. Increase the intensity by repeating set & time of cardio, stretch, strength, and balance after min 4 weeks, once you feel comfortable with your current routine.
Day
Exercise
Min
Day
Exercise
Min
Day
Exercise
ODD- 1, 3,5
Dynamic Stretches
4
Even 2, 4,6
Dynamic Stretches
4
Day 7
Rest
Cardio
10
Stair climbing
8
Balance
7
Strength
14
Static stretches
4
Static stretches
4
Total
25
Total
30
5 Thumb rules for better impact:
Hire a digital trainer for free. The key is to do it perfectly than more in numbers. Use video tutorials, mobile apps, read blogs and use a mirror to make it perfect.
Be a regular, rather inconsistent & intense.
Drink more water during the exercise routine and more importantly in the time of trekking. Keep dehydration, muscle cramps, and life-threatening hypothermia away.
Food is fuel. Maintain a well-balanced diet consist of carbohydrates, fat, and protein during your exercise and trekking days.
Sleep well. Finally, the lack of sleep can spoil your whole preparation for a trek.